Products
» Non-alcoholic handsanitizer
Non-alcoholic handsanitizer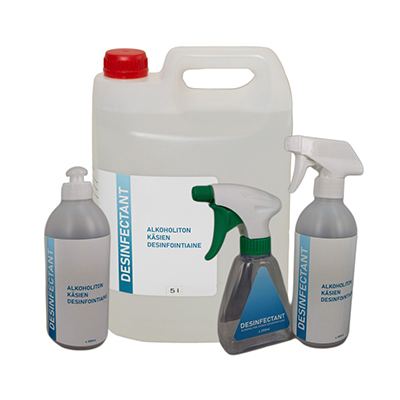 Non-toxic, non-tainting and odorless. Antimicrobial agent in product formulated for the Hospital, Livestock, Food & Beverage and Personal Hygiene sectors to protect hands and surfaces. Its dual biocidal and detergency properties ensure high efficacy against bacteria, algae, fungi and enveloped viruses at exceptionally low concentrations. Designed to remove organic contaminants.
Spray the product 1-2 times on hands. Rub your fingertips first, then rub evenly over the entire surface of your hands and palms until they dry. For external use only.
Composition: Aqua, Glycerine, Alkyl (C12-16) Dimethylbenzylammonium Chloride (CAS Nr.: 68424-85-1): 0,4 g / 100 g (0,4 %)
Nonalcoholic hand disinfectant is registered in the Register of Biocidal Products of the Republic of Finland (Tukes) - Nr. 509723

Safety: use the product with caution. Always read the information on the label before first use. Keep out of the reach of children. Do not breathe vapor or spray. In case of contact with eyes, rinse eyes thoroughly with water for several minutes. If eye irritation persists, consult a doctor. Avoid release to the environment. Harmful to aquatic life with long lasting effects. Dispose of contents / container in accordance with applicable legal requirements.
| | | | |
| --- | --- | --- | --- |
| Size | Description | Min. amount | Price, inc. VAT |
| 5 litre | Canister | 1 | € 30,00 |
| 20 litre | Canister | 1 - 23 | € 110,00 |
| 20 litre | Canister | 24 - 47 | € 100,00 |
| 20 litre | Canister | 48 | € 85,00 |