Products
» PR - UV Air Purifier
PR - UV Air Purifier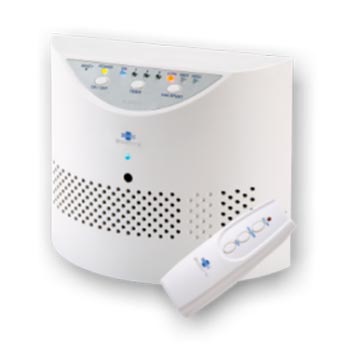 BioZone Scientific's PR is your solution for flexible chemical-free odor control and containment of infectious microorganisms, mold and other harmful impurities. PR can be mounted on the wall for a permanent room installation or used as a powerful portable device when and wherever you need it.
PR has been demonstrated to reduce airborne bacteria in real world environments by over 70%.
PR Advantages:
Kills germs by destroying bacteria both in the air and on surfaces throughout the area in which it is installed
Removes odors at their source – does not simply mask odors
Low maintenance and low energy usage
Portable or fixed installations
Remote control and adjustable output
Size: 270 x 102,5 x 222,5 mm.
Weight: 2 kg.
| | | | | |
| --- | --- | --- | --- | --- |
| Devices | Description | Rec. maximum area | Lamp type | Price, inc. VAT |
| PR-05 | Universal Power Supply, Adjustable Output, Remote Control, Optonal Wall Mount Kit, Portable, Space Saving Design | 45 m2 | 10-08010 | € 560,00 |
| PR-10 | Universal Power Supply, Adjustable Output, Remote Control, Optonal Wall Mount Kit, Portable, Space Saving Design | 90 m2 | 10-08025 | € 680,00 |
| PR-20 | Universal Power Supply, Adjustable Output, Remote Control, Optonal Wall Mount Kit, Portable, Space Saving Design | 185 m2 | 10-08050 | € 800,00 |
| PR-30 | Universal Power Supply, Adjustable Output, Remote Control, Optonal Wall Mount Kit, Portable, Space Saving Design | 280 m2 | 10-08100 | € 920,00 |