Products
» Mobizone
Mobizone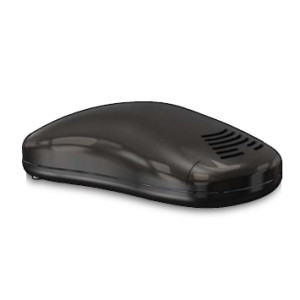 Out of stock
Is the smell of lingering cigarette smoke too much for you or the passengers in your vehicle?
Are odors from pets, food, or exhaust making it unpleasant for you or your guests to ride in your boat or RV?
Does your car or truck still smell like the sweaty gym bag that was sitting in the trunk?
BioZone Scientific has THE SOLUTION for you: MobiZone.
Unlike scented perfumes or fragrance dispensers, MobiZone does not merely mask odors- it eliminates unwanted odors at their source. Using BioZone Scientific's patented technology, MobiZone also targets and kills bacteria, viruses, mold, fumes and other airborne impurities. MobiZone operates when and where you need it to improve the air around you while you're on-the-go.
MobiZone is environmentally-friendly and is completely chemical and battery-free. Easy to install and simple to maintain. Simply rests on any flat surface with the provided non-slip pad. Plugs into any standard 12V DC cigarette lighter outlet (optional 100-240V AC wall adapter available). Completely portable, quiet and economical, NOW you can bring clean air with you wherever you go.
MobiZone is perfect for:
Smokers
RV Owners
Boat Owners
Truck drivers
Commuters
Travelers
Pet Owners
Taxi drivers
Size: 80 x 160 x 45 mm.
Weight: 764 g.
| | | | |
| --- | --- | --- | --- |
| Devices | Description | Lamp type | Price, inc. VAT |
| MZ-1 | Plugs into any standard 12V DC cigarette lighter outlet (optional 100-240V AC wall adapter available). Completely portable, quiet and economical, NOW you can bring clean air with you wherever you go. | 10-04010 | € 223,20 |